Alumni & Giving
The College experience does not end at graduation. Your connection to the UNC Charlotte College of Health and Human Services lasts a lifetime and you will always be part of Niner Nation.
Alumni Spotlight
Exercise Science Alumna Interns with Tennessee Titans
Bria Jones, a 2017 graduate of UNC Charlotte's exercise science program got a first-hand look at athletic training in professional sports during a seven-week internship with the Tennessee Titans after receiving a scholarship from the Professional Football Athletic Trainers Society (PFATS) and NFL.
"Being able to work with professional athletes and have so many modalities to get them better and faster was amazing," Jones said.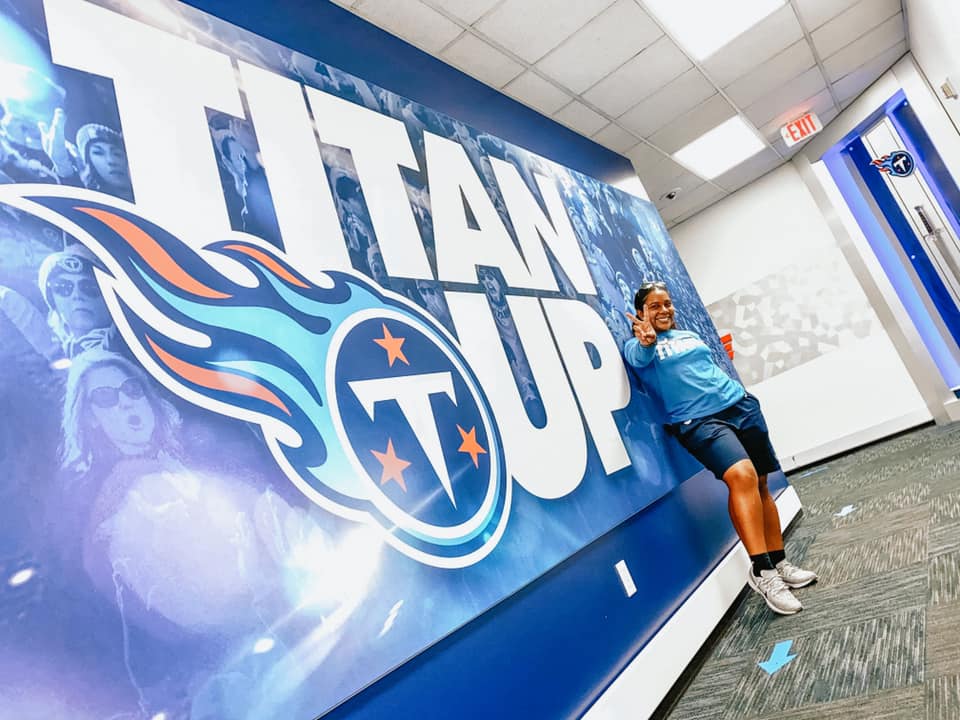 The NFL PFATS Scholarship provides annual awards to ethic minority students who are interested in athletic training. The program offers 32 scholarships at $1,000 per award. In addition to receiving a financial grant, each student selected had the opportunity to work at an NFL summer training camp.
During her internship, Jones was able to work directly with Titans players on and off the field.
"Everyone in the club was so nice. By the end of the first week everyone knew my name," Jones said.
Jones credits the exercise science program for preparing her for her master's program as well as her internship with the Titans.
"Without going through the program I wouldn't have been prepared in the slightest," she said, "I knew a lot more during my master's because of the labs and curriculum at UNC Charlotte, which allowed me to keep up and move a little faster."
After receiving her bachelor's degree in exercise science from UNC Charlotte in 2017, Jones went on to complete her Masters in Athletic Training at Bethune-Cookman University. She is now in the process of applying to physical therapy school with the benefit of good recommendations from the Titans, she said.
Her hope is to work as an athletic trainer for performing arts organizations such as Cirque du Soleil or Disney on Ice.
"I want to do something different. I love spontaneity and new things," Jones said.
---
by: Katie Rayner, CHHS Communications Graduate Assistant