Sports Analytics is Changing the Game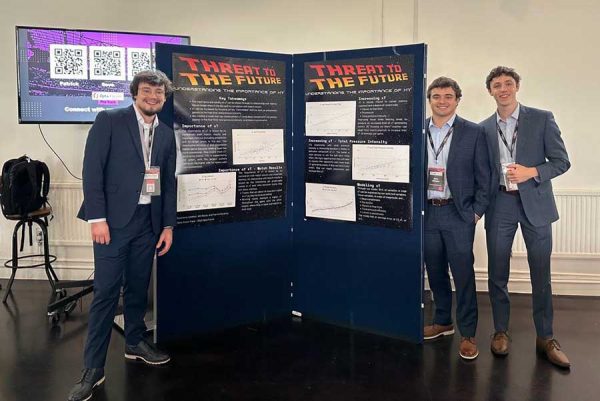 UNC Charlotte students are using sports analytics to change the way soccer players and coaches view the game. Recently, a group of students from the sports analytics program entered research projects into a global competition hosted by renowned sports data and analytics company Stats Perform. The UNC Charlotte team was selected to present their findings at the Opta Forum Conference in London to industry leaders from legendary teams like Arsenal, Chelsea, Manchester United, Paris Saint-Germain and Real Madrid.
The group – Will Bantz, Patrick Bardsley, Seve Jimenez and Jack Pamukci – submitted two proposals about field performance to the conference organizers, outlining metrics that predict "expected threat" that teams may encounter during games. UNC Charlotte's delegation was the only group from the United States selected to present at the conference. Additionally, Pamukci's individual research was selected to be presented on the main stage.
"The new sports analytics certificate is opening doors to our students both nationally and internationally. The students presented their work to Premier League soccer clubs in London and landed elite sport opportunities at Charlotte FC, the Philadelphia Phillies, USA Baseball, and Boston Bruins. The program has opened doors to students interested in a wide variety of analytics careers including sport performance, human pre and post rehabilitation, wearable technology and AI in health. Charlotte has created opportunities in these areas and students are entering impactful settings, said J.P. Barfield, chair of the UNC Charlotte Department of Applied Physiology, Health, and Clinical Sciences. The department collaborates with the School of Data Science to teach the program.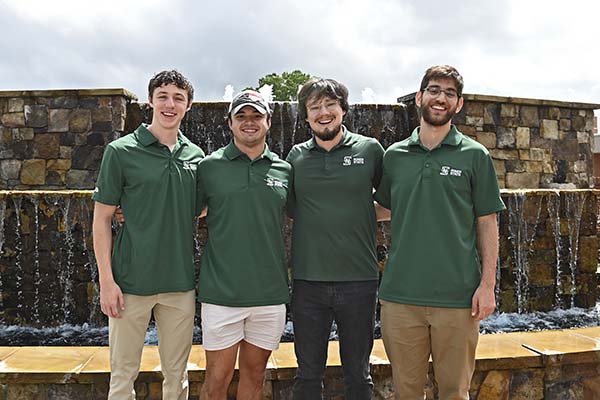 Pamukci, the presentation award winner, discussed his findings on the importance of individual positioning on the field to prevent opponents' progressive play in build-up phases and counterattacks. His report provided coaches and recruitment staff with a more objective understanding of how each individual player defends for a team and it quantifies how proactive a player is in looking to prevent opposition attacks from developing. The quality and creative-thinking nature of his research – applying analytics to defensive strategies instead of offensive tactics – earned Pamukci the Dr. Gary Gelad Award for the best undergraduate presentation.
"The Opta Forum is attended by sports scientists and analysts from across professional soccer, and so connecting with these people is exactly where we want to be as aspiring soccer data analysts," Pamukci said. "This opportunity wouldn't be possible without the sports analytics internship program at UNC Charlotte, which prepares us for opportunities like this and for working with coaches in the future."
At UNC Charlotte, John Tobias leads the sports analytics program. Each semester, a group of students gain experience through a series of guest speakers and projects. In any given semester, Tobias' class has the opportunity to meet executives from the Carolina Panthers, Charlotte FC, the Carolina Hurricanes, ESPN and other sports organizations. Students are often given assignments to analyze real-life scenarios for local professional organizations and present a detailed analysis to team representatives.
UNC Charlotte's sports analytics graduate certificate program began in 2022, but has already had an impact on many organizations. Graduates have accepted positions with Charlotte FC, Philadelphia Phillies, USA Baseball and Boston Bruins.
"The invaluable experiences gained by Bantz, Bardsley, Jimenez and Pamukci in London pair nicely with their classroom training and will surely benefit them in their professional careers as the next wave of sports analysts," said Tobias.