Respiratory Care, MS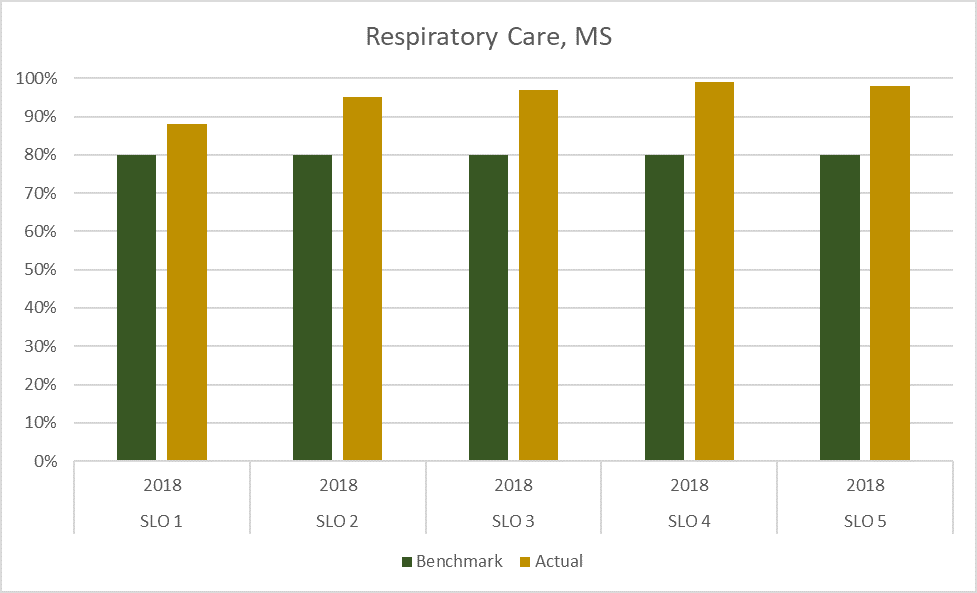 Student Learning Outcome Statements:
Students will demonstrate an expanded breadth and depth of knowledge in specific respiratory therapy content areas to allow the student to successfully challenge and complete an advanced credentialing exam offered by the National Board of Respiratory Care.
Students will demonstrate the ability to use leadership theories and practices to successfully lead a group of fellow clinicians to complete a specific education or management project.
Students will demonstrate effective oral and written professional communication skills consistent with a master prepared respiratory therapist.
Students will demonstrate knowledge of study design, data analysis, and research methods related to developing a research proposal that will answer a relevant clinical question.
Students will successfully complete a research, quality improvement, or educational project that includes planning, needs analysis, information gathering, organization, reporting, and executing elements that impact positive change in the clinical, research or educational environment.
Assessment Plans:
Student learning outcomes are assessed each semester and reports are reviewed by the faculty and the advisory committee each spring.
Instruments/Artifacts:
Project-based assignments, evidence-based research papers, research poster presentations, and student satisfaction surveys.
Acceptable Target:
80% of students will meet or exceed expectations
Use of Learning Evidence:
Changes were made to help prepare students for leadership roles by considering multiple sources of data and information from personal/professional experience, stakeholders, scientific literature, and organizational information to make evidence-based decisions.
The BSRT course instructor has reevaluated the layout, content, assignments and assessments in their course upcoming to better meet the needs of our students and hopefully allow for more successful SLO outcomes in the coming academic year.
Return to Student Learning Outcomes Assessment main page.